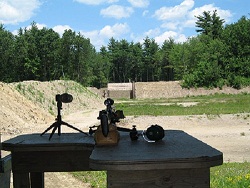 The four leftmost positions on the outdoor rifle range are 200 yards, with the remainder being 100 yards.
The 200 yard positions may only be used by members who have been qualified by the 200 Yard Range Committee.   See the 200 yard range rules for additional details.
The 200 Yard Range Committee is responsible for monitoring and organizing maintenance and use of the 200 Yard Range, providing training and oversight of range tests and advising the Board of Directors on all range activities, conditions and ongoing needs to maintain a safe and well kept facility.
Committee Members & Contact information: